Featured Talk from the Conference
Multiplexed Biosensor Systems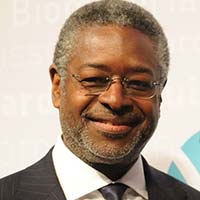 College Station, Texas - Professor Guiseppi-Elie, serving as the Founding convening Chair, successfully completed the first-ever Center for Bioelectronics, Biosensor and Biochips Virtual Scientific Meeting (C3B®-20) via Zoom®. Organized under the auspices of the United Scientific Group, the three hour C3B-20 Meeting was held on May 28th, 2020, convening at 08:45 AM Eastern Time (US and Canada).

Program details are at https://bioengineermeeting.org/c3b/
Attended by as many as 40 registered participants, the meeting was moderated by Dr. Hua Xiao "Adam" Yang of the Stanford Cardiovascular Institute and featured a keynote presentation by Prof. Anthony Guiseppi-Elie on Multiplexed Microanalytical Biosensor Systems. Additional presentations included a featured presentation from Dr. Ajeet Kaushik, Assistant Professor of Chemistry, Florida Polytechnic University who spoke on "Smart Biosensor for Personalized Health Care". Other speakers included Mr. Zachary Bujnoch, an independent consultant, who spoke on "Making A Technology A Solution: Considerations & Methodologies For Transitioning A Technology Into A Minimal Viable Product"; Dr. Yun Tian, Associate Professor, Eastern Washington University, who spoke on "Word Extract Associations Between Biomedical Concepts From Large Text Data Set In Cloud" and Dr. Hua Xiao "Adam" Yang of Stanford University who spoke on "Micropatterned Human Pluripotent Stem Cell-Derived Biochip for Cardiac Maturation and Disease Modeling". In addition to the high profile presenters, the meeting also featured the work of two young researchers, Mr. Kasyap Chakravadhanula, of BASIS® Scottsdale High School, AZ, who spoke on "An Inexpensive Smartphone-Based Device for Rapid, Non-Invasive, and Point-of-Care Monitoring of Diabetes with Related Ocular and Cardiovascular Complications" and Mr. MD Hasan Anowar of the University of Texas Rio Grande Valley, TX, who spoke on "An Open Source Python App for Sleep Data Analysis".
"The meeting was a great success for community morale, collaboration and team building", said Prof. Guiseppi-Elie. "Moreover, it established United Scientific as a major player in the emerging on-line conference market".
Established in September 2008, The Center for Bioelectronics, Biosensors and Biochips is an on-line community of scholars, researchers, developers and entrepreneurs established on LinkedIn to support the development and commercialization of human health applications of bioelectronics, biosensors and biochip technologies.